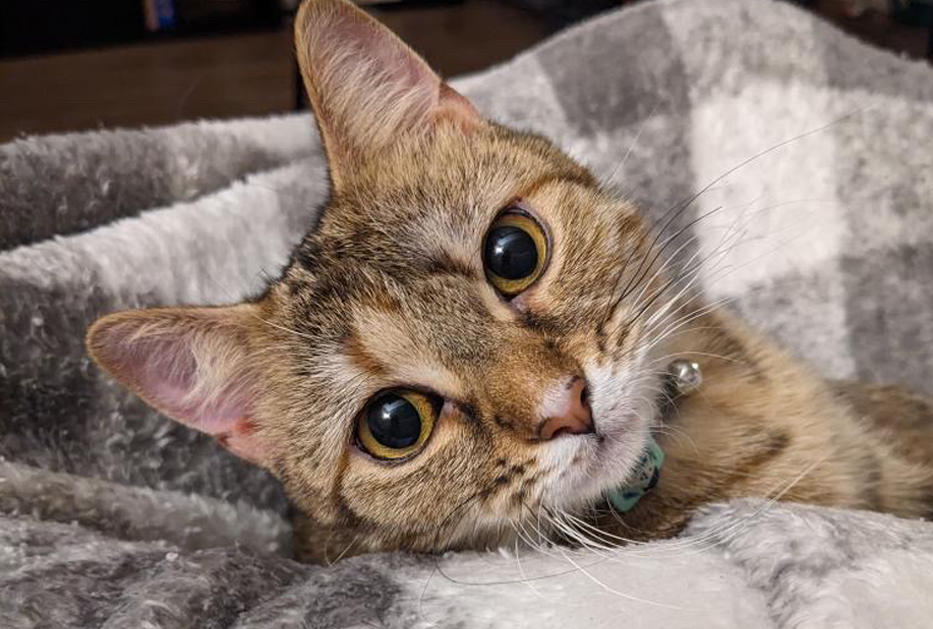 Katinka's Journey
February 12, 2023
One of our favorite cases of 2022 was a kitten named "Katinka" brought to VSC by Friends of Manatee County Animal Services. Katinka came to VSC in bad shape! She had a severe left tibia fracture, a large laceration to her forehead down to the skull, and an infected wound near the left eye so severe that the eyeball was not visible, as well as multiple lacerations on her left front and hind legs.  While initially arriving at VSC to be examined and have a treatment plan made, she caught the eye of one of our assistants, Allison, who was involved in her first wound dressings, and of course held her as she recovered.
"She was just so little and already had so many bad things that happened to her but yet she was still super sweet and very, very talkative. She just had a great personality and I couldn't stop thinking about her, and when I brought her home 'just for a weekend,' she just fit in so well we couldn't let her go!"

– Allison
Katinka underwent multiple extensive surgeries to fix her broken leg, the abscess next to her eye, and the large head wound. Multiple surgeries were necessary to fix her tibia but all of her procedures went well and she has made a full recovery.  Allison and her partner Kaitlynn nursed Katinka throughout her recuperation. We are happy to report that Katinka, now named Ripley, was officially adopted by Allison and Kaitlynn.
The VSC Team is so happy that we could help Ripley with her recovery and are also so thankful to FOMC and the Grace and Friends Medical Fund that made everything possible for Riley!