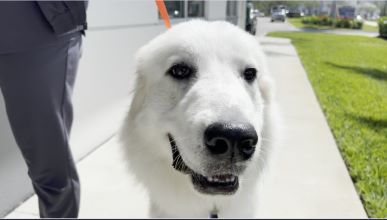 Maggie and her new shoulder
May 19, 2023
Maggie, an 11-month-old Great Pyrenees, presented to Veterinary Surgery Center due to an osteochondritis dissecans (or OCD) lesion on her right humerus (the upper arm bone). OCD is a cartilage disease that develops in many large- and giant-breed puppies that results from a failure of proper cartilage development. The condition can lead to significant pain in lameness in puppies that just want to play and often resuts in signifcant arthritis for the rest of their life.
At Maggie's initial exam, Dr. Rose confirmed a lesion in the right shoulder that was first found by the owner's veteriarian. Maggie's owners wanted the best chances for Maggie to have a normal limb since she was going to grow much larger. Dr. Rose recommended an implant called a SynACART implant. The Arthrex SynACART system is a synthetic cartilage replacement for treating cartilage defects in the joints of animals. The implant has a smooth polymer surface that replaces the damaged cartilage and has a titanium metal base which the bone incorporates permanently.
Maggie had the surgery and was rested for 6 weeks to allow the implant to fully incorprate into the bone. She gave her parents many grey hairs as she  quickly recovered and thought she could return to being a puppy soon after the surgery! She just had her six week follow up and she is doing fantastic! Maggie is such a wonderful young dog who is full of life, and we are so happy that we had the opportunity to help her.