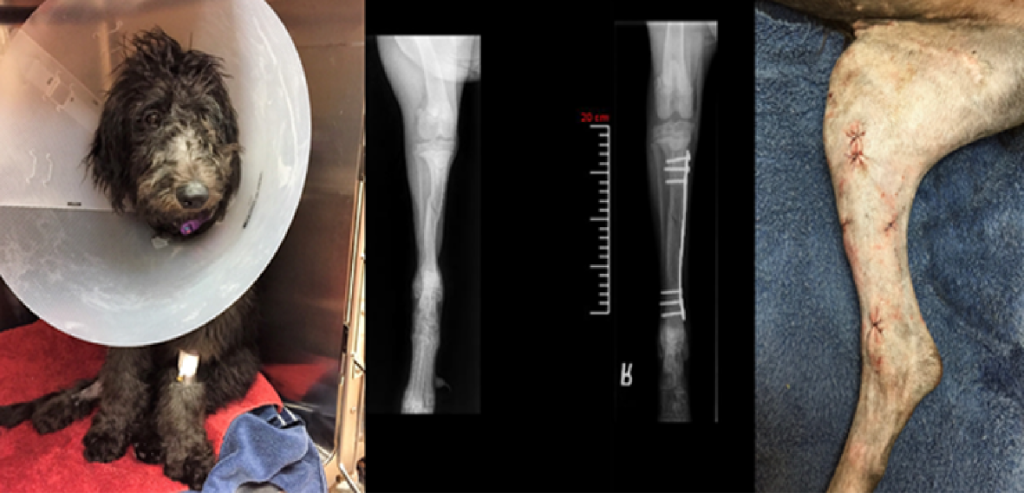 Minimally Invasive Fracture Repair
October 20, 2022
Zory, a six-month-old Labradoodle puppy, sustained a tibia fracture while jumping for a ball in her dad's hand. Zory was taken to the emergency hospital where radiographs (x-rays) confirmed a fractured tibia; fortunately, her fibula was intact. Dr. Rose consulted with the ER veterinarians and the owners and became Zory's surgeon.
To promote a faster healing of the bone, Dr. Rose chose a minimally invasive technique to stabilize the fracture. Minimally invasive plate osteosynthesis is a surgery that uses small skin incisions and tissue tunnels made under the skin to place the metal implants in the right area. This eliminates a long incision and invasive approach that would reduce the blood supply the healing bone during recovery. A metal plate was slid under the skin and once in place it was fastened with screws to the bone. The small incisions were then closed and radiographs were taken to evaluate the implant position and the reduction of the fracture.
In the x-ray, you can see the fracture before surgery and immediately after surgery!
On the afternoon of Zory's surgery, she was already toe touching with her repaired limb. Zory's mom reports she is doing fantastic! At two weeks, post-surgery, Zory started taking short five to ten minute walks with her family. At four weeks, post-surgery, Zory was up to nearly 20 minute controlled walks. Way to go Zory!!